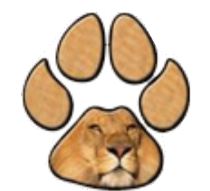 RECREATIONAL TEAM BUILDING ACTIVITIES  

Team building activities help and enable variety of groups to reach their potential, goals and identify the main problems or weaknesses. Not only does this help promote self – motivation and confidence, it also helps them to learn how to get solutions, improve their personal skills and it assists in improving their daily life style or routine. Our main objectives is to create a profitable and viable business minded team work whereby Trust, Proper communication and personal skill are achieved with the activities that will be conducted. Activities such as Treasure Hunt, Amazing Race, Quad Bikes, Paintball, Obstacles Courses, Mind Games, Archery, Motivational speakers to mention few.
RATES ARE VALID UNTIL 31 December 2019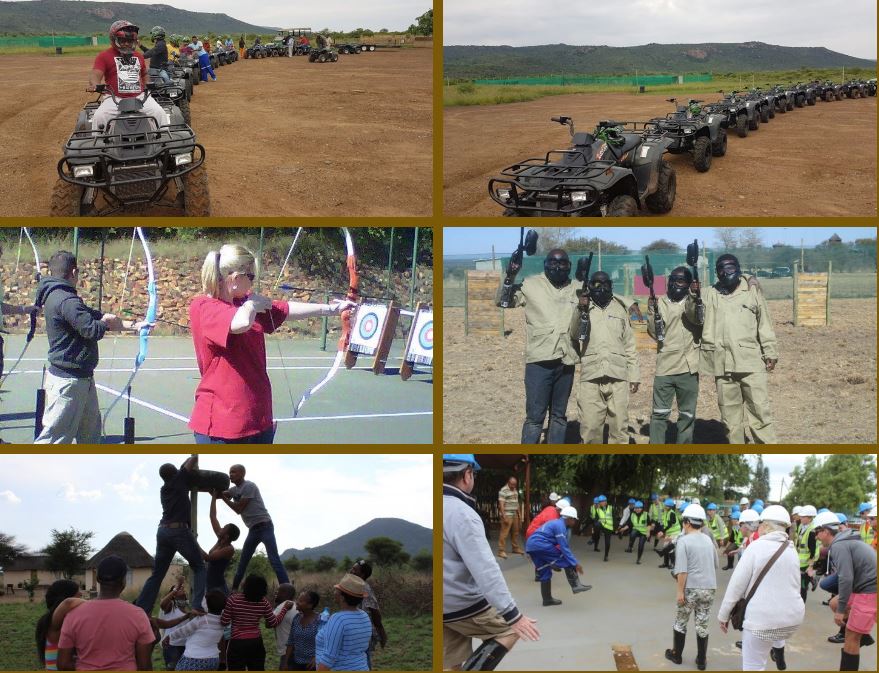 This is a recreational fun activities that helps breaking the tension between/ among the guests. It also helps to know one another. It also helps to adapt to the environment and be comfortable before the actual activities eg. The ability to clear the mind to focus on the task ahead is something successful people have known for generations.  
R250.00
pp less than 30 pax
R200.00
more than 30pax
Experience nature as a team in a unique, healthy and thrilling way and orientation on the quads for all. Adventure sets the mind rolling for productive brainstorming. Participants are taken for a jolly ride on quad bike for a trail for enhancing their sensibility and sensitivity to nature.  R600.00 pp
This is a collective mind game. All the tyres must be put from the top of the pole down to the ground surface. The tyres must not touch the pole. Each time they touch it has to be restarted. When all tyres are packed inside the poles, the same strategy has be implemented, lift them out of the pole one by one. R250.00 pp
Tug-of-War is a game of strength that is played by young children in elementary school as well as tough soldiers in the Army. The rules are simple yet contain metaphorical association to the idea of combat and conquest. The ultimate goal is to use teamwork to overcome the strength of the opposing team. Scientific principles, including leverage, can create a situation in which the stronger team does not necessarily always win.  R250.00 pp


It creates a great sense of achievement for the team that wants to reach the target. It also enhances ones power of concentration.  R250.00 pp

6. COMBAT BUSH PAINTBALL
Paintball is an exciting character-building sport, and above all its fun! It's a chance to shake your day to day responsibilities and revive your spirit of adventure. When adrenaline starts pumping, you can't help but love the thrill of the game.  R380.00 pp 250 BALLS

7. CHESS –GAME OF BRAINS

Chess is a game for people of all ages. You can learn to play at any age and in chess, unlike in many other sports, you don't ever have to retire. Age is also not a factor when you're looking for an opponent - young can play old and old can play young. Chess develops logical thinking. Chess requires some understanding of logical strategy. For example, you will know that it is important to think logically. Although you will find yourself doing that occasionally through your career, mistakes are inevitable like life, is a never-ending learning process. R200.00 pp

8. INTERACTIVE DRUMMING

One of the oldest forms of communication known to man.  Enjoy the interactive rhythms of Africa, facilitated by a well experienced artist. R180.00 less than 30 pax R200.00 more than 30pax

9. VOLLEY BALL

Want to build successful and effective work teams in your organization? Start with these ideas and you will create a powerful and positive teamwork. Your state of mind is as key to being good at volleyball as your skill set. To be a great player you have to learn to be mentally tough. Train your brain as well as your body and
you will find success. Here is a definition of mental toughness as it pertains to volleyball and here are some tips for developing it. R210.00 pp

10. TRAFFIC JAM
These indoor/outdoor games improve and work mostly with concentration/ focus. Groups divided into two equal lines chairs facing each other. Group A must eventually sit where group B is presently sitting. They must use single free chair provided. R210.00 pp

11. NAIL BALANCING

Problem solving and decision-making are important skills for business and life. Problem-solving often involves decision-making, and decision-making is especially important for management and leadership. There are processes and techniques to improve decision-making and the quality of decisions. Decision-making is more
natural to certain personalities, so these people should focus more on improving the quality of their decisions. This activity motivates your employees with a genuine feeling of making a difference. R240.00 pp

12. ARCHERY

Experience the ancient art of archery with the help of modern day equipment. Competent instructions will help you master the technique of shooting a re-curve bow. R240.00 pp

13. TREASURE HUNT

A treasure hunt is a game that usually sends you on a wild goose hunt in search of clues to help you get closer to the treasure that is hidden. It is a great game to play for people of all ages. Here is one of our typical example; THE FUN WAY TO EXPLORE The magic ingredient is to get everyone involved in the activity.
A set of (different) clues are set up for each group and the group has to solve the clues to find their next locations, where the next clue will be given.
Once a clue has been solved and the team got them to the correct location, a set of questions will be asked and this is where everyone has to participate. R850.00 pp

14. AMAZING RACE
An Amazing Race is a fun, fast paced team event, where through a series of tasks and discoveries, teams are ultimately aiming to be the first at the finish line. Each amazing race is a completely tailor-made event, starting and finishing where and when you want it to, anywhere in South Africa. The end point remains a
mystery until the participants get there. R950.00 pp

15. POTJIEKOS COOKING
The Potjiekos Cooking Competition is a great event for building team spirit. When the cooking begins, at least one member of each team will be required to watch their team's potjies. Once the potjies are ready, they are presented for judging, and the winner announced. The only thing left is to eat the Potjiekos dishes and enjoy
a great time of socializing and getting to know your team members better. Rates on request

16. FIVE BY FIVE
This activity is designed to enhance team work through fun and interactive exercise. The goal of is to increase the participants understanding of team dynamics and to improve how the team works together. Team participation, communication, negotiation and leadership abilities are developed and highlighted. R220.00 pp

17. RIST ROPES
Poor communication lies at the root of many team problems. It can lead to mistakes, quality problems, conflict, missed deadlines, and lost opportunities. Not only can these boost people's communication skills, but they can also help them build good relationships with one another. R220.00 pp

18. SPIDER WEB
The structure for this activity must look exactly like a spider web. Each member must go through one hole without touching the rope (web). No member is allowed to use the hole that the other member has already used. Every time a person touches the rope, the whole team has to start again. R220.00 pp

15 FIVE-A- SIDE FOOTBALL
The game can be played by boys and girls, Adults, Veterans even disabilities. It also features the increasingly popular walking football (over 50s), which caters to those who enjoy playing the beautiful game at a slightly more sedate pace! R250.00 pp