Mbazo Safari Lodge
5* Luxury Bush Lodge in Black Rhino Game Reserve
Mbazo Safaris Lodge is located in the Black Rhino Game Reserve forms an additional 'corner' of the Pilanesberg National Park. It is on the North West side of the Pilanesberg, with its own secured, private entrance that is situated on the western border, and with no boundary fences – wildlife is free to roam across both areas. They offer 5 individual rooms that offers the guest everything they need to have an amazing stay including 2 game drives per day. What lies at the core of Mbazo's success is a dream that puts you, the guest, as well as the land, wildlife and people of Africa, at the heart of our business.
We started in the Hospitality business over forty years ago to live at the intersection of food, art and commerce. The only thing that has changed is our perspective and experience. Our mission is the same – to delight, inspire and be inspired. What began as a small storefront deli on church street Pretoria, South Africa in 1979, has evolved to become one of South Africa's cream Hospitality firms.
Our job is to insure that a celebration reflects a client's style, taste, vision, and yes – even their dreams. This belief has served us well for more than 40 years, and we have remained on the edge of culinary creativity, constantly refining ourselves and our food to make dreams become reality.
Unlike other hotels, Hotels pride themselves on offering our guests in-house award-winning restaurants and our food philosophy is simple: seasonal, ingredients to showcase the region's finest flavours.
Our Creation Cycle is Deliberately Low-Tech

By going on a true discovery that has been crafted for each guest, you are assisting us to care for the people, fauna & flora of the loved destinations that you visit. People-centred service as authentic as Mbazo. The reason Mbazo came into existence was to provide jobs, skills and hope to people living in desperate poverty. Each Mbazo discovery is spiced with our promise to take Care of the Heart & Soul of what nature provides.
Our services, linen and packaging are hand-made by experienced crafters. We support small local suppliers and producers. Our wild ingredients are hand-harvested by people living in remote areas of Southern Africa where economic opportunities are almost non-existent.
Rates

Come Dine With Us

Facilities

Infromation

Rooms

Safari Adventure

Terms

Unwind & Relax

Beauty and Richness

Fathert's Day

A visit from Veldmeisie
Rates inclusive of 15% VAT • South African Rand • Subject to availability

Description

1 Jan -2023 - 31 Dec 2023

VILLA

Per person per night (sharing)
R5 900

VILLA

Solo traveler
R8 100

PREMIER SUITE

- 2 people sharing
R13 750
CHILD* (6-11*) - p/child p/n
R2 950

FAMILY VILLA


(2 Bedrooms / 2 Bathrooms)
Maximum Occupancy of Family Villa: 5 pax

VILLA RATE

(2 Bed +2 bath,Based on 4 guests)
R23 750

ADDITIONAL CHILD

(Applies to 5th person sharing between 6 - 11
yrs of age inclusive) - p/child p/n
R2 950
Description

1 Jan -2024 - 31 Dec 2024

VILLA

Per person per night (sharing)
R6 900

VILLA

Solo traveler
R9 500

PREMIER SUITE

- 2 people sharing
R15 950
CHILD* (6-11*) - p/child p/n
R3 460

FAMILY VILLA


(2 Bedrooms / 2 Bathrooms)
Maximum Occupancy of Family Villa: 5 pax

VILLA RATE

(2 Bed +2 bath,Based on 4 guests)
R27 700

ADDITIONAL CHILD

(Applies to 5th person sharing between 6 - 11
yrs of age inclusive) - p/child p/n
R3 460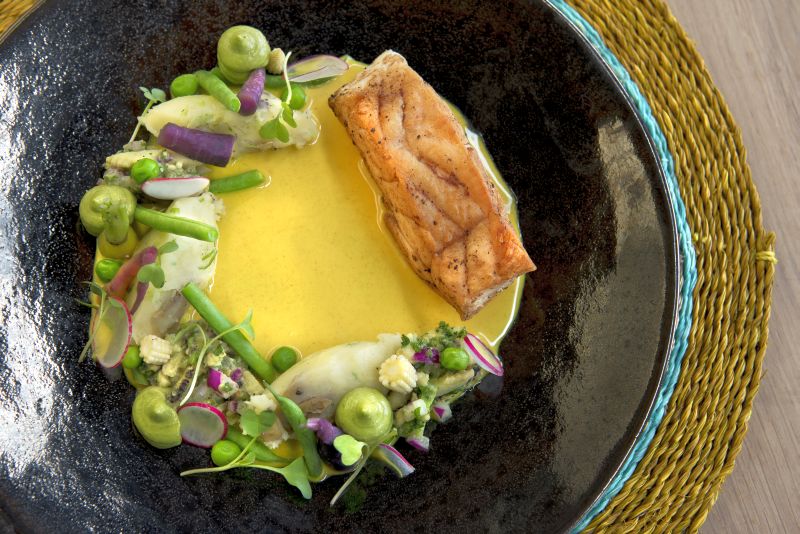 Every Meal is a Delicious And Memorable Celebration
Dining, which is as much a part of your safari experience as the safari itself, provides you with the gourmet Big Five: Safari halt. Breakfast. Lunch. Tea in the afternoon. Dinner. To give you a memorable experience of this location, our chefs give contemporary meals a local twist.
Dining becomes its own discovery when paired with top Cape Wines. There's also something to be said for the setting, with every seat in the bungalow being the best in the bungalow.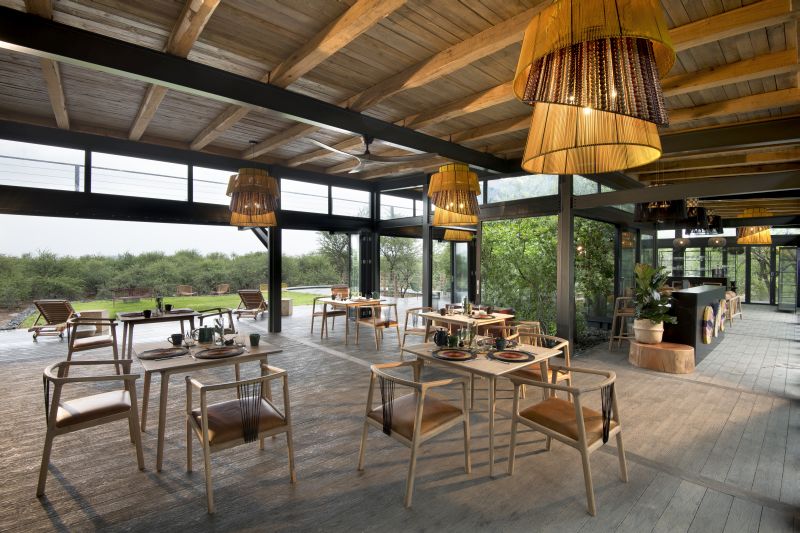 Rooms:
Five Two-Sleeper Chalets with King Sized Beds
Bathroom:
Freestanding Bath & Outdoor Shower
Airconditioning
: Fully Fitted
In-Room Facilities:
Telephone, Hairdryers and Safe in Room
Personal Fridge
: In-Room Personal Fully Stocked Bar
WiFi
: Free Superfast Uncapped WiFi
Spa
: Expert Wellness Therapists provide in-room spa and beauty treatments
Pool:
Serviced Guest Pool with Loungers and Towels
Dining
: Gourmet Big Five: Safari halt. Breakfast. Lunch. Tea in the afternoon. Dinner. to enjoy at the Viewing Terrace
Mbazo Gallery:
Wonderful souvenirs, art, apparel, and everyday necessities
Everyone's Welcome:
Suitable for Guests with Disabilities
General Facilities

Bar / Lounge
Secured parking
Free parking
Laundry service
Restaurant
Room service
WIFI
Wheelchair access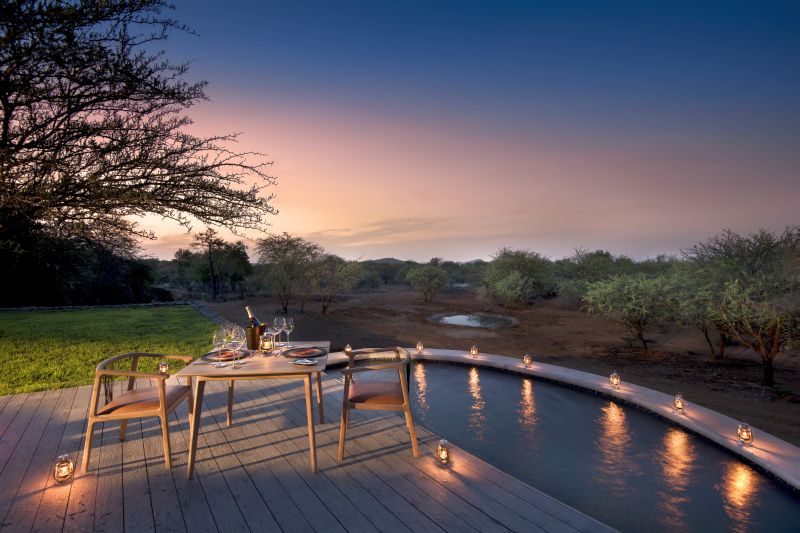 Malaria Free Lodge


The weather

The average maximum temperature ranges from 21°C/70°F in July to 35°C/95°F in January, with the lowest average minimum temperature happening in July.
The region is semi-arid, with an average annual rainfall of 500mm (20in), the most of which falls during the summer months (December – February)
Rain is usually in the form of thundershowers, with a downpour that lasts no more than a few minutes.
Located
Mbazo Safari Lodge is located on Black Rhino, a privately controlled 2100ha part of the Pilanesberg National Park, South Africa.
Best Time to Visit

The animals in Pilanesberg National Park are non-migratory, as a result, rather than changing with the seasons, the safari experience continues to evolve throughout the year.
The optimal time to go birdwatching is from October to April.
Can the Whole Lodge be Booked?
Absolutely! The intimate lodging is inspired by the Red-Billed Buffalo Weaver. This bird has been observed in small family groups or in large flocks, thus you as a discerned guest can book the lodge as a couple, family or large flock, capable to serve up to 10 callers.

Family Friendly Lodge

The resort welcomes guests of all ages.
There's also the Eco Garden's children's amusement and education area — the hub of fun and games.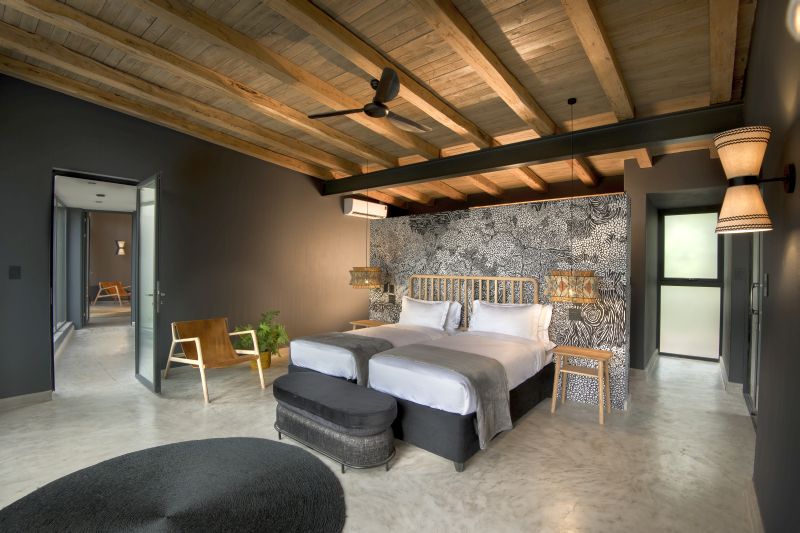 Five Luxury Suites
Lush, Organic and Undeniably Gourgeous
The five two-sleeper chalets are modern elegance while still capturing the sense of craft 'Out of Africa.' Each has a king-sized bed, a fully-stocked minibar, a freestanding bath, en-suite and outdoor showers, and a shaded veranda elevated to take advantage of the bush views.
Mbazo Safari Lodge is a simple extension of the natural environment that surrounds it — lush, organic, and undeniably gorgeous.
One of the five suites features a separate children's room with its own en-suite bathroom (including an outdoor shower). This area is divided from the main bedroom, providing parents (and children) with their own space.
Luxury King Rooms

Luxury King Rooms featuring king beds and an en-suite bathroom with a Bath and Shower plus an outside shower.
The rates are on a full board basis and Include 2 Game drives per day.
Max Guests: 4 (Max 2 adults )
Children: 0 - 5 years stay free,
6 - 11 years pay 50% of the sharing rate

Safari With Panache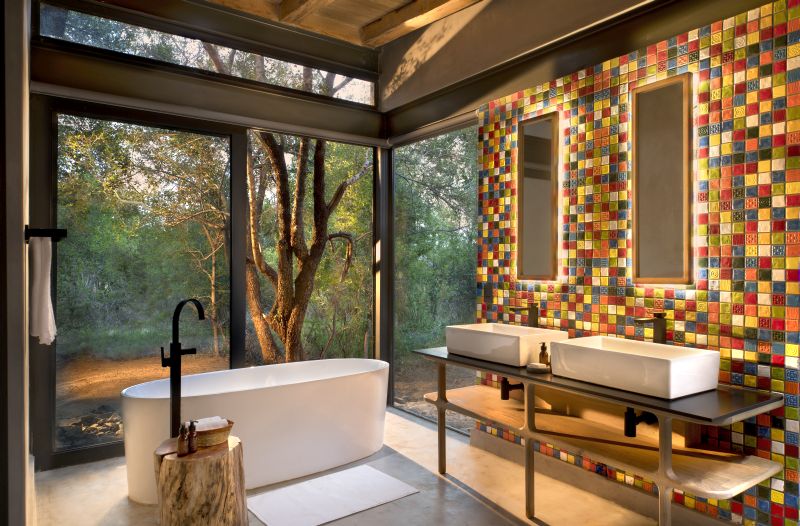 Suites may appear 'down to earth', but they are far from it. Every convenience has been provided, and each includes a shaded deck for guests to enjoy.
The Family Suite includes a children's en-suite bedroom — just like home, but better! The resort welcomes guests of all ages.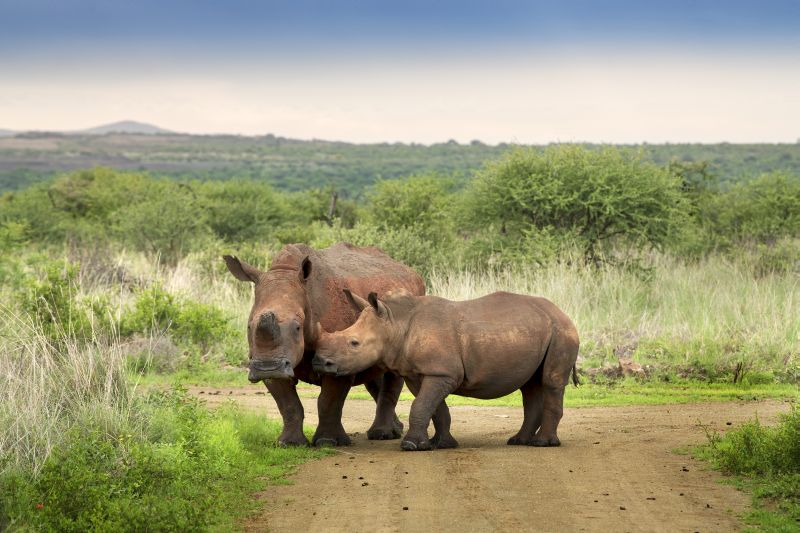 A Once-In-A-Lifetime Safari Adventure
There's no better place to celebrate your occasion than with a once-in-a-lifetime adventure that will provide you and your partner or friends with an unforgettable experience – and a Mbazo Safari is at the top of the bucket list.
Private dinners, private lodging, customized experiences, and leisure... we'll make it all you want it to be - and more, with a few surprises thrown in for good measure. All you have to do is send out invitations and pack your luggage, and we'll take care of the rest.
With only five full-service lodges on this 2100ha privately managed reserve, guests can expect a very personal safari experience. Being out here on your own, exploring the huge wilderness of mountains, plains, and the Pilanesberg crater, is humbling.
You'll get up close and personal with some of Africa's most spectacular animals.
Check-in 14:00 Check-out 11:00

KINDLY NOTE

Rates exclude a Black Rhino Reserve Conservation Levy per person per night
Rates are quoted per night in South African Rand (ZAR) and are inclusive of 15% Value Added Tax (VAT)
MBAZO SAFARI LODGE Terms and Conditions apply
Exclusive use rate of MBAZO SAFARI Lodges is available on request and subject to availability
Two-night minimum stay applicable
Children OF ALL AGES are welcome at MBAZO SAFARI Lodge

Children older than twelve years of age are seen as adult paying full rate

If one adult and one child share a Villa: Adult pays per person sharing rate and child pays the CHILD rate*
Two children under eleven years of age are allowed to share a room with 2 full paying adults
Family Room: 1- 4 Guests (2 adults + 2 children OR 4 adults in total)
Rates Inclusions
Accommodation at Mbazo Safari Lodge includes two daily game drives on an open Safari vehicle.
Children under the age of 12 are not permitted on the morning and afternoon game drives. We do provide a 40 - 45-minute morning Bumble Bee Drive for children.
Game Drives for Families with Children are offered for an additional fee.
If parents prefer to participate in the game drives, child minder services are also offered at an additional cost.
All meals and beverages excluding premium brands
Wi-Fi connection is provided.
VAT
Rates Exclusions

Purchases from the curio shop
Premium beverage list
Spa treatments
Transport to and from the reserve
Tourism levy, airport taxes and landing fees, where applicable
Pilot accommodation
Walking Safaris
Black Rhino reserve levy per nighthildren of all ages are welcome.
Child Policy
All ages welcome
12 years and older: ADULT rate applies and permitted on game drives
Deposit Policy
For all bookings made within 60 days of travel
Full payment Is required within 3 days of your booking.
For all bookings made more than 60 days of travel
A 50% deposit Is required within 3 days of your booking and the balance 60 days prior to arrival.
Payment can be made via bank transfer, credit card (Master/Visa) or bitcoin.
Cancellation Terms
All cancellations must be given in writing
Cancellation fees:

If cancelled up to 61 days prior to arrival, 10% cancellation fee of the full booking value (inclusive of VAT) will be charged
If cancelled 31 to 60 days prior to arrival, 25% cancellation fee of the full booking value (inclusive of VAT) will be charged
If cancelled 15 to 30 days prior to arrival, 75% cancellation fee of the full booking value (inclusive of VAT) will be charged
If cancelled 14 days or less prior to arrival, 100% cancellation fee of the full booking value (inclusive of VAT) will be charged
A 10% admin fee will be retained for cancellations made after the card has been charged.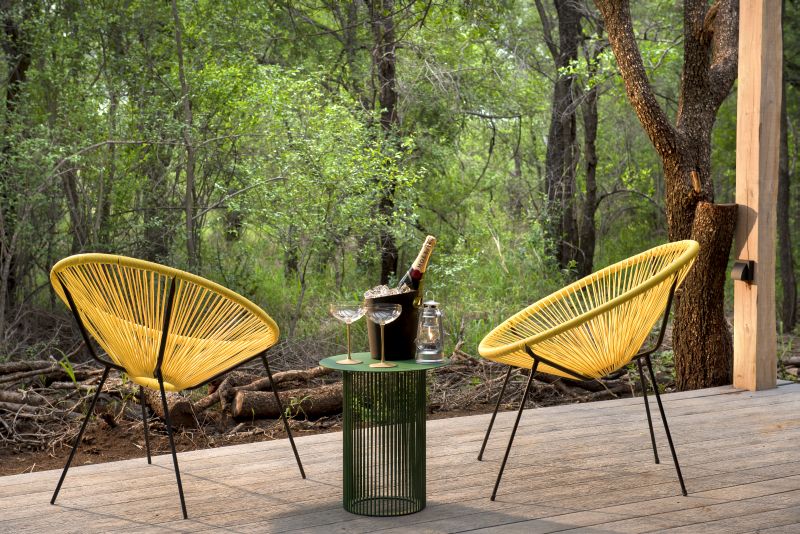 Our setting provides us an advantage in the healing stakes: we're in a tranquil hideaway surrounded by the boundless green of the Pilanesberg Crater — the color of wellbeing. There are in-suite spa therapies and yoga mats available, and you can keep the doors open in perfect seclusion, enabling the soundtrack of birdsong to stream in.
This sensation of well-being isn't restricted to massages and sun salutations; healthful food, luxurious accommodations, and personalized service round out the experience.
Admire the beauty and richness of our natural heritage as we embark on National Environment Month this June. With almost 10 percent of the world's bird, fish, and plant species, and an equally impressive presence of mammal and reptile species, South Africa stands as a beacon of biodiversity on the global stage.

Our ecosystems play a vital role in sustaining life itself. They are the guardians of our water, purifiers of our air, and custodians of our soil. They recycle precious nutrients, offer resources that shape the very fabric of our civilization and propel our economies forward, and provide sustenance for our minds, bodies, and souls. The undeniable truth is that the environment and its intricate ecosystems are irreplaceable treasures that hold the key to our future.

At Mbazo Lodge, we embrace the responsibility to safeguard our ecosystems. Our commitment to environmental conservation is interwoven into the fabric of our lodge. Every step we take is infused with eco-conscious practices, ensuring that our presence has a minimal impact on this delicate balance.
We invite you to experience the beauty of nature at Mbazo Lodge and discover the profound connection that binds us to our Earth.
Celebrate Father's Day in style and sophistication at Mbazo Lodge, where luxury meets heartfelt appreciation. Go beyond traditional gestures and treat your dad to an extraordinary experience surrounded by the awe-inspiring landscapes of the Pilanesberg National Park.

Our spacious and opulent accommodations provide the perfect backdrop for a memorable retreat. With breath taking views of the African wilderness, plush amenities, and attentive service, your dad will feel like a true king in his own kingdom.
Give your father the gift of a lifetime that reflects his remarkable presence in your life with an escape to Mbazo Lodge, where every detail is tailored to create memories that will last a lifetime. Let us create an unforgettable experience that will leave him feeling cherished and appreciated.
Veldmeisie, Corli Leonard, a floral artist and decor stylist with an impeccable eye for detail graced us with her presence last week and seamlessly weaved together the elements of our environment to create captivating decorations for Mbazo Lodge. Drawing inspiration from the abundant flora that thrives in our cherished surroundings, she effortlessly transformed our space into an enchanting haven of natural elegance. At Mbazo Lodge, we strive to curate experiences that awaken the senses and celebrate the remarkable beauty that surrounds us. Veldmeisie's artistry perfectly complements our commitment to luxury and authenticity. Indulge in the allure of nature's finest creations at Mbazo Lodge this month, guided by the skillful hands of Corli Leonard.
LOCATION MAP