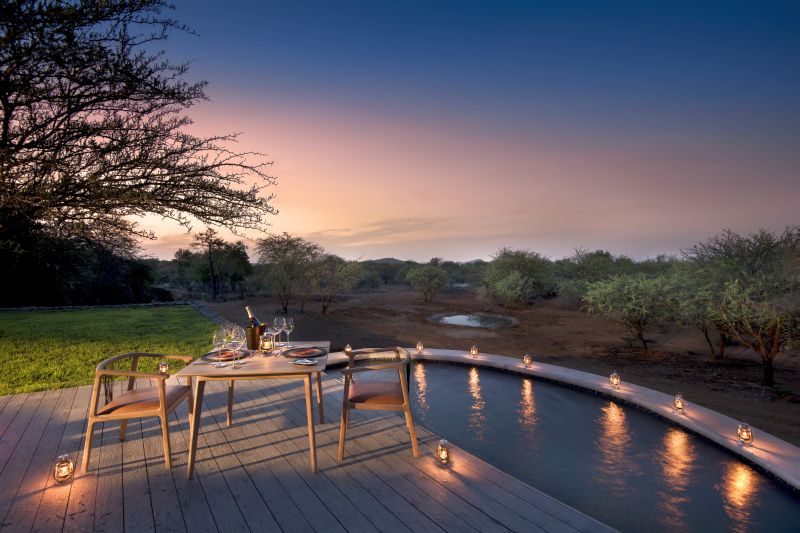 The weather
The average maximum temperature ranges from 21°C/70°F in July to 35°C/95°F in January, with the lowest average minimum temperature happening in July.
The region is semi-arid, with an average annual rainfall of 500mm (20in), the most of which falls during the summer months (December – February)
Rain is usually in the form of thundershowers, with a downpour that lasts no more than a few minutes.
Located
Mbazo Safari Lodge is located on Black Rhino, a privately controlled 2100ha part of the Pilanesberg National Park, South Africa.
Best Time to Visit


The animals in Pilanesberg National Park are non-migratory, as a result, rather than changing with the seasons, the safari experience continues to evolve throughout the year.
The optimal time to go birdwatching is from October to April.
Can the Whole Lodge be Booked?
Absolutely! The intimate lodging is inspired by the Red-Billed Buffalo Weaver. This bird has been observed in small family groups or in large flocks, thus you as a discerned guest can book the lodge as a couple, family or large flock, capable to serve up to 10 callers.

Is the Lodge Family Friendly?


Definitely! The resort welcomes guests of all ages.
There's also the Eco Garden's children's amusement and education area — the hub of fun and games.
Malaria Free Lodge