The information below gives you a rough idea when and where you should be looking for some of the species during March, April and May.

The map indicate the wildlife sightings on 23 August 2016.

I would like to express my thanks to Park Control, Pilanesberg National Park & Wildlife Trust, Copenhagen Zoo and all others that have been involved, for their support in these projects.
| | | | | |
| --- | --- | --- | --- | --- |
| SPECIES | MORNING(AM) COMPARED TO AFTERNOON(PM) SIGHTINGS | MOST SIGHTINGS | | FREQUENCY |
| LION | AM 53% / PM 47% | Most places near water. Resting up in the shade during the day. (See map below) | | Common |
| LEOPARD | AM 44% / PM 56% | In rocky areas and near water. (See map below) | | Rare |
| CHEETAH | AM 56% / PM 44% | Most of the open areas of the park, but avoiding the lions (See map below) | | Rare |
| BUFFALO | AM 51% / PM 49% | On Tlou drive between Ntswe and Moloto, on Tshukudu e Ntsho at Tlou dams, on Ntswe between Kukama and Tlou drive, on Sefara opposite the Lenong access road. Lone bulls occasionally seen on Kubu near the mine. (See map below) | | Extremely rare |
| ELEPHANT | AM 43% / PM 57% | Throughout the park. | | Very Common |
| WILD DOG | AM 53% / PM 47% | Near water and near the gates early in the morning and late in the afternoon. Resting up on high ground during the day. | | Extremely rare |
| RHINO | AM 43% / PM 57% | Throughout the park | | Very Common |
| | | | | |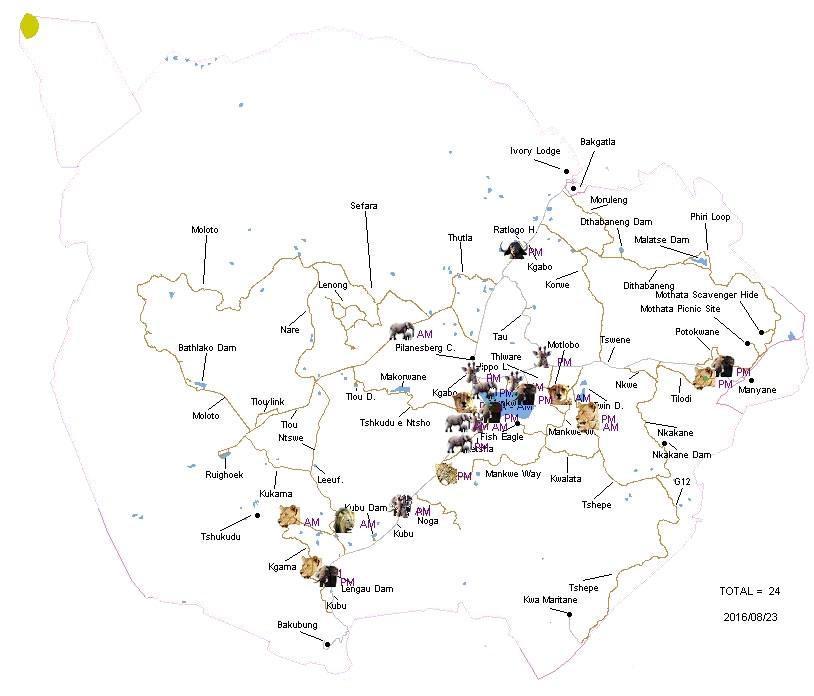 Map from ParkControl© - parkcontrol.co.za - Copyright© Pilanesberg National Park & Wildlife Trust